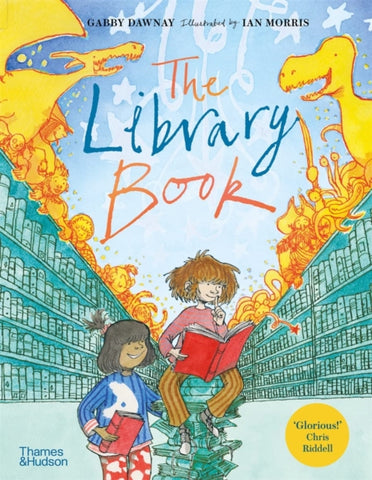 (NEW!) The Library Book - Signed by Gabby Dawnay
The Library Book
Written & Signed by Gabby Dawnay
Illustrated by Ian Morris
'Glorious!" – Chris Riddell
'Imagine Dr Seuss meets Quentin Blake ... stunningly good and lots of fun' – The School Librarian
Our protagonist Zach develops a love of reading thanks to the stubborn efforts of his friend Ro, who reveals the imaginative power of books.

Zach isn't convinced that books are for him - they're too long, they're boring and he would rather watch TV. But thanks to his friend Ro's stubborn efforts, Zach falls for books hook, line and sinker, and loses himself in a world of dinosaurs, princesses, pirates, football and rocketships - anything and everything the library has to offer.

The benefits of reading for pleasure are well researched. As well as being linked to academic attainment, reading for pleasure can increase empathy, our understanding of our own identity, and improve mental health. These outcomes are most likely when reading takes place out of free choice. Through lively rhymes and dynamic illustrations, The Library Book helps early readers understand the plethora of books available to them through their local library and encourages parents, guardians and teachers to help children find books that appeal to their personal interests.

Written in a catchy rhyming style by bestselling author Gabby Dawnay, The Library Book will trigger a love of words in readers of all abilities, while Ian Morris' inventive watercolour illustrations - which are reminiscent of two British illustration greats, Quentin Blake and Chris Riddell - make Zach's emotional journey come alive. The combination is a picture book that will inspire a love of libraries, reading, books and words in even the most reluctant reader.

'What to do with a kid that doesn't love books? Show them all the wonders that books hold! I love this!' - @BookBairn
'With a rhyming cadence, and imaginative illustrations, this will surely be a book you'll want to pick up and read again and again!' - @theblossomingbibliophile
'A beautiful and magical book ... just "WOW"' - @itsalibrarianlife
'The unbridled joy of reading spills out from the pages of this book ... this is a wonderful book to read out loud. The illustrations are gloriously vibrant and imaginative. They capture perfectly a sense of limitlessness. A fabulous book to inspire a love of reading and to reveal to children the wealth of books available to them' - JUNO
Publisher: Thames & Hudson Ltd
ISBN: 9780500660157
Number of pages: 32
Weight: 200 g
Dimensions: 300 x 233 mm 
Published: 14/07/2022