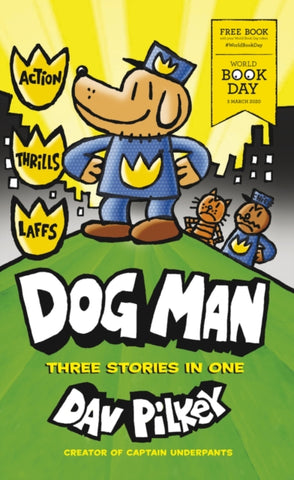 WBD: Dog Man: 3 Stories in 1 - by Dav Pilkey
WBD: Dog Man: 3 Stories in 1 - by Dav Pilkey
KABLOOEY! It's A BRILLIANT new DOG MAN book for World Book Day 2020 packed with three hilarious stories.
Read about Dog Man avoiding a bath at all costs, plus foiling a bank robbery and a plot to turn everyone into zombies, in this action-packed, fully illustrated, laugh-out-loud book!
Dav Pilkey's wildly popular DOG MAN series appeals to readers of all ages and explores universally positive themes, including: empathy kindness persistence and the importance of being true to one's self.
OTHER BOOKS IN THE SERIES: Dog Man (book 1) Dog Man: Unleashed (book 2) Dog Man: A Tale of Two Kitties (book 3) Dog Man and Cat Kid (book 4) Dog Man: Lord of the Fleas (book 5) Dog Man: Brawl of the Wild (book 6) Dog Man: For Whom the Ball Rolls (book 7) Dog Man: Fetch-22 (book 8)