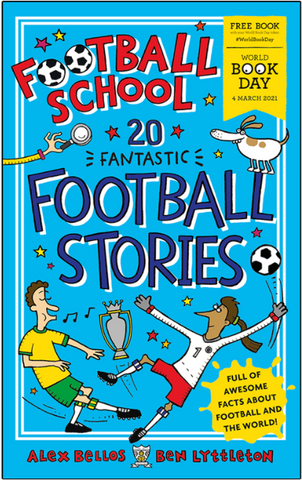 WBD 2021 Football School : 20 Fantastic Football Stories by Alexander Bellos, Ben Lyttleton, Spike Gerrell
Football School: 20 Fantastic Football Stories
Written by:
Alexander Bellos

 

and Ben Lyttleton
Illustrated by: Spike Gerrell
Discover 20 mind-blowing football stories in this awesome collection created for World Book Day 2021.
Find out the true stories of the star players, top teams and game changers who have shaped football history. Stories include:
- The secret behind Lionel Messi's success
- The footballer who pooed on the pitch
- The greatest goat in football
- The incredible story of women's football after World War I
The bestselling Football School series explains the world through football. This collection is packed with fascinating facts and super stats, so you'll learn loads about football, as well as other amazing subjects such as history, science and geography.
Make reading even more fun by downloading these great activities from the Football School series:
Football School Biology Activity Kit
Football School Geography Activity Kit