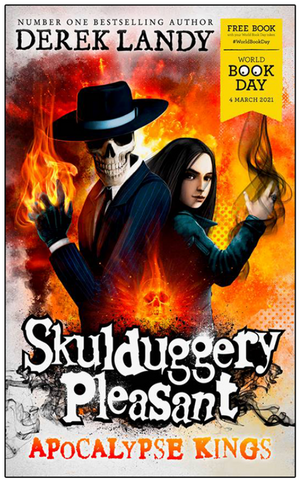 WBD 2021: Skulduggery Pleasant: Apocalypse Kings - by Derek Landy
WBD 2021: Skulduggery Pleasant: Apocalypse Kings
A brand new Skulduggery Pleasant novella for World Book Day: a hilarious and thrilling standalone story in the internationally bestselling series - perfect for new readers, and essential for Skulduggery fans...
Three ancient gods are freed from their prison with only one desire: to destroy the planet and everyone on it. To save us all, Skulduggery Pleasant and Valkyrie Cain must go undercover in a Dublin school.

Skulduggery has to blend in with the teaching staff, while Valkyrie has to pass for an ordinary schoolgirl. Above all else, no matter what happens, they both must act completely and utterly normal. We are so dead.