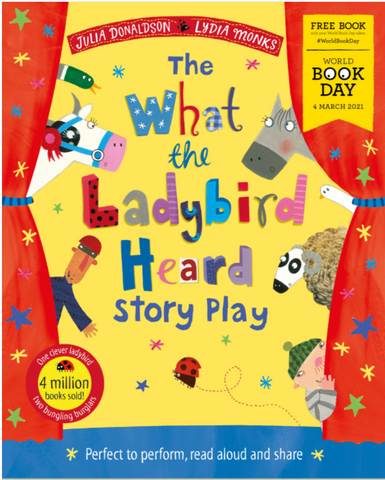 WBD 2021: What the Ladybird Heard Story Play - by Julia Donaldson and Lydia Monks
WBD 2021: What the Ladybird Heard Story Play
Written by Julia Donaldson
Illustated by Lydia Monks
The bestselling picture book What the Ladybird Heard by Julia Donaldson and Lydia Monks has been adapted into a special story play for World Book Day 2021 - so you can join in the fun!
Hefty Hugh and Lanky Len are two crafty robbers with a cunning plan to steal the farmer's fine prize cow. But little do they know that the tiniest, quietest creature of all has overheard their plot, and she has a plan of her own…
The first story in the brilliantly funny What the Ladybird Heard series has been adapted by author Julia Donaldson into a fun and easy-to-read play script, with bright and distinctive illustrations by Lydia Monks — perfect for reading aloud, acting out and even putting on your very own play!