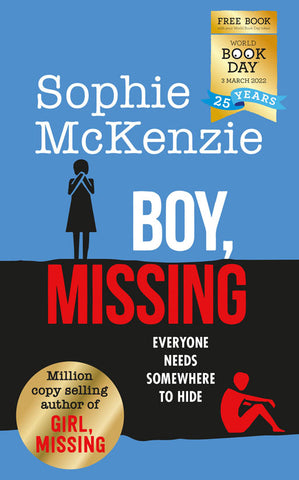 WBD 2022 : Boy Missing - by Sophie McKenzie
WBD 2022 : Boy Missing
Written by:
 

Sophie McKenzie
Publisher:

 

Simon & Schuster

Cousins Ellen and Harlan have been forced to go on a family camping trip – the worst timing ever, because they're in a huge fight. So Ellen is happy when Harlan storms off into the woods, but her peace and quiet quickly turns to panic when he doesn't come back. Facing heart-stopping danger on the clifftops, will Ellen be able to find Harlan before it's too late?

An adrenaline-fuelled race against time from the Queen of teen thrillers, million-copy selling Sophie McKenzie.




Read a sample from the book HERE!
ABOUT THE AUTHOR:
Sophie McKenzie is the multi-award-winning, original queen of teen thrillers, whose debut, Girl, Missing, is still a YA bestseller sixteen years after first publication. Sophie has followed its success with two further books in the series: Sister, Missing and Missing Me, as well as many other teen thriller and romance novels, including The Medusa Project series, Blood Ties and Blood Ransom. Sophie's first adult novel, Close My Eyes, was selected for the Richard and Judy Book Club. Her books have sold more than 1 million copies in the UK alone and are translated and sold all over the world. She lives in North London and her brand new thriller, Hide and Secrets is out now.
Website: sophiemckenziebooks.com
Instagram: instagram.com/sophiemckenziebooks