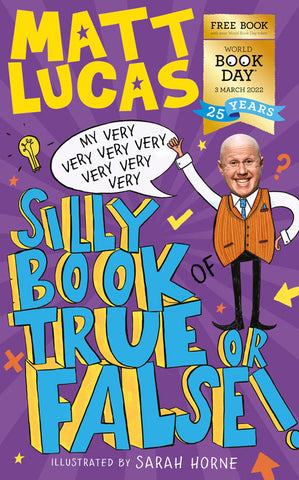 WBD 2022 : My Very Very Very...Silly Book of True or False - by Matt Lucas
WBD 2022 : My Very Very Very Very Very Very Very Silly Book of True or False 
Written by:
 

Matt Lucas
Illustrated by:

 

Sarah Horne
Publisher:

 

Farshore

Can you spot fact from fiction? Can you tell what's news and what's nonsense?

This very, very, very, very, very, very, very silly book is FULL of mind-boggling true or false facts about animals, food, inventions, famous people, extraordinary places and much, much more!

True or false?
A man once ate an entire airplane.
The first frisbees were overcooked pies.
King Henry VIII had a special servant to take him to the loo.

Grab a copy and find out the answers!

Jam-packed with incredible facts and super-silly jokes from the king of comedy Matt Lucas, this book will have your laughing your socks off . . . while learning astonishing things about the world we live in!

Read a sample from the book HERE!
ABOUT THE AUTHOR & THE ILLUSTRATOR:
Matt Lucas is an actor and comedian, and the author of five bestselling books for children, including three non-fiction titles in the My Very…Silly series and two picture books about Baked Potato, star of the charity fund-raising song 'Thank You, Baked Potato', which topped the official UK download chart. He first became famous by playing a big baby who played the drums in a crazy TV show called Shooting Stars. He has since written and starred in a string of award-winning UK and US shows, plus several blockbuster films! He is currently the co-host of The Great British Bake Off, which is his dream job as he loves cake (but not cheesecake).
Twitter: twitter.com/RealMattLucas

Sarah Horne is the bestselling illustrator of Charlie Changes Into a Chicken and sequels, as well as a host of other fiction and picture book titles. She first learned to draw aged nine, when she needed to explain to the hairdresser how she wanted her hair to be cut. Since aged nine, Sarah's drawing has got better and better, and she now has over 70 titles to her name, including Fizzlebert Stump: The Boy Who Ran Away From the Circus (and Joined the Library), Puppy Academy, and the Ask Oscar series, as well as commissions for the Guardian, The Sunday Times, Kew Gardens, Sesame Street, and IKEA, where she was Children's Illustrator In Residence.
Website: sarahhorne.studio
Facebook: facebook.com/sarahhorne09
Twitter: twitter.com/sarahhorne9
Instagram: instagram.com/sarahbhorne9