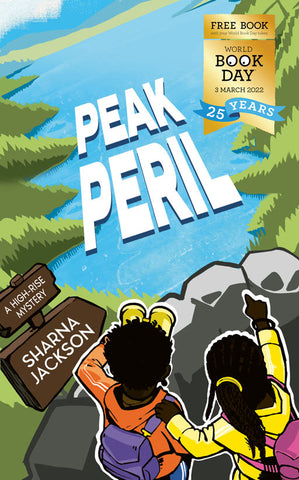 WBD 2022 : Peak Peril: A High-Rise Mystery - by Sharna Jackson
WBD 2022 : Peak Peril: A High-Rise Mystery
Written by:
 

Sharna Jackson
Publisher:

 

Knights Of

Thinking of doing a bit of investigating? A little light snooping? A sprinkle of scammery? Nik and Norva are headed to the Peak District, for a school trip and a break from being The Tri's best detectives. But, a new mystery is never too far!

Read a sample from the book HERE!
ABOUT THE AUTHOR:
Sharna Jackson is the award-winning author of High Rise Mystery – the first in a middle-grade series featuring the sibling detective duo Nik and Norva everyone's dying to meet. Winner of the Waterstones Children's Prize for Older Fiction 2020, Sharna has written five books for young readers including Mic Drop: A High-rise Mystery and Tate Kids: Modern Art Activity Book.
Website: sharnajackson.com
Twitter: twitter.com/sharnajackson
Instagram: instagram.com/sharnajackson