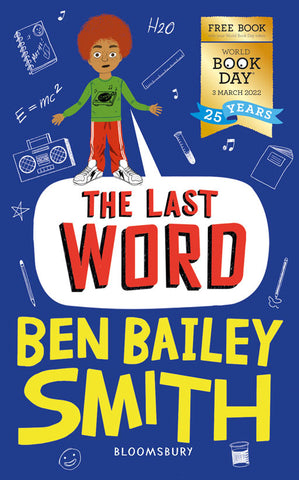 WBD 2022 : The Last Word - by Ben Bailey-Smith
WBD 2022 : The Last Word 
Written by
 

Ben Bailey Smith
Publisher:

 

Bloomsbury

A HILARIOUS WORLD BOOK DAY EXCLUSIVE!

Car Taylor, comedic star of Something I Said, is back in another hilarious misadventure from comedian, actor and screenwriter Ben Bailey Smith. Perfect for fans of David Baddiel and Frank Cottrell-Boyce.

Carmichael Taylor - Car for short - is just a normal schoolkid with an answer for everything.  But life's not always about having the last word, as the wisecracking Car discovers when he accidentally lands his supply teacher in a whole host of trouble. So begins one boy's mission to make things right - with a whole lot of laughter along the way.

Read a sample from the book HERE!
ABOUT THE AUTHOR:
Ben Bailey Smith began his career as rapper Doc Brown before diversifying and moving into mainstream TV and film acting, stand-up comedy, screenwriting and children's books. He has a host of notable TV performances under his belt including roles in Law & Order and Miranda as well as the British CBBC TV show 4 O'Clock Club. Ben's debut novel for children, Something I Said was published in June 2021, starring Carmichael Taylor, the main character of his World Book Day story.
Ben Bailey Smith – Photo credit: Ken Lam
Instagram: instagram.com/docbreezy88