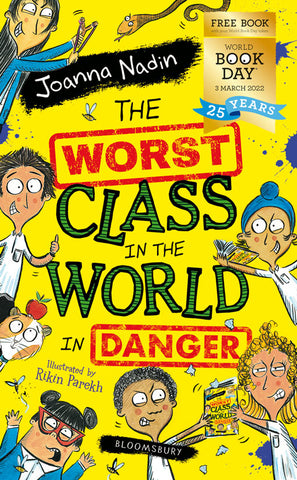 WBD 2022 : The Worst Class in the World in Danger - by Joanna Nadin & Rikin Parekh
WBD 2022 : The Worst Class in the World in Danger
Written by:
 

Joanna Nadin
Illustrated by:

 

Rikin Parekh
Publisher:

 

Bloomsbury

A hilarious and exclusive World Book Day book featuring THE WORST CLASS IN THE WORLD - or are they?

Perfect for fans of Horrid Henry.

Head teacher Mrs Bottomley-Blunt thinks 4B is the WORST CLASS IN THE WORLD. She says school is not about footling or fiddle-faddling or FUN.  It is about LEARNING and it is high time 4B tried harder to EXCEL at it.

But best friends Stanley and Manjit won't let that stop them. They have a FOOLPROOF PLAN to write the most FUN and DANGEROUS book EVER.

It's LITERALLY going to be the most OUTSTANDING (and dangerous) World Book Day! Contains superglue, wild animals and a very daring rescue!Contains: super glue, wild animals and a very daring rescue!

Read a sample from the book HERE!
AUTHOR: JOANNA NADIN
A former broadcast journalist and special adviser to the Prime Minister, since leaving politics Joanna Nadin has written more than seventy books for children, teenagers and adults, including the award-winning Penny Dreadful series, the Flying Fergus series with Sir Chris Hoy, and the Carnegie-nominated Joe All Alone, which is now a BAFTA-winning BBC drama series. She has won the Fantastic Book Award and the Surrey Book Award, has been shortlisted for the Hearst Big Book Awards, the Roald Dahl Funny Prize, a BookTrust Best Book Award and Queen of Teen, and twice-nominated for the CILIP Carnegie Medal. As well as writing, Joanna has a doctorate in young adult literature and lectures in creative writing at Bath Spa University and for Bloomsbury, as well as freelancing as a speechwriter.
Joanna Nadin – Photo credit: Helen Giles
Website: http://www.joannanadin.com/
Facebook: facebook.com/joannanadinauthor
Twitter: twitter.com/joannanadin
YouTube: https://www.youtube.com/channel/UC5-J3N2Aqb5zE_-roy454kA
Instagram: instagram.com/jonadin/
ILLUSTRATOR: RIKIN PAREKH
Rikin Parekh studied art at the Camberwell College of Arts and the University of Westminster. He has since worked designing monsters for the film industry and selling books for a national chain. He currently works with year fives in a London primary school inspiring children to draw their own monsters. A major film buff and Marvel aficionado boasting a collection of over 300 Spider-Man comics, when he's not drawing you'll probably find him at the cinema or at Comic Con.
Website: http://www.rikinparekh.com/
Twitter: twitter.com/r1k1n
Instagram: instagram.com/r1k1n_parekh/