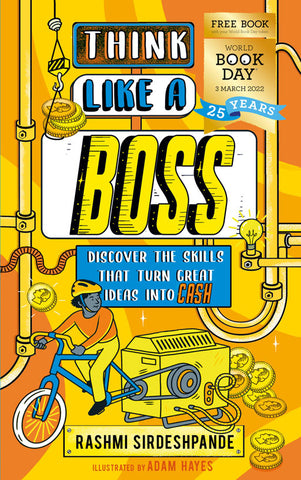 WBD 2022 : Think Like a Boss - by Rashmi Sirdeshpande
WBD 2022 : Think Like a Boss - by Rashmi Sirdeshpande
Illustrated by:

 Adam Hayes


Publisher:
Hachette Children's Group
Ever thought making money was just for adults?
Or that business was boring?
And that inventing stuff was only for super clever people?
Think again...
Though this book may be small, it's bursting with big ideas for budding entrepreneurs. From understanding money and looking after it, to the nuts and bolts of setting up a business, making your big ideas a reality and using your cash for good.
Don't have a big business idea just yet? Don't fear. Being a boss isn't just about making money. It's about building confidence, thinking outside of the box, problem solving and being 100% fearless. Which isn't a bad place to start, right?
So don't leave everything to the grown-ups. It's time to boss it.
Packed with tips and tricks from real businesses and fantastic role models.
Read a sample from the book HERE!
ABOUT THE AUTHOR & ILLUSTRATOR:
Rashmi Sirdeshpande is a lawyer turned children's author who loves taking big ideas and making them accessible and exciting for young readers. She writes non-fiction picture books that ignite children's curiosity, as well as fictional stories that crackle with imagination. When she's not playing with words, you'll find her on her yoga mat twisting herself into all sort of shapes.
Website: rashmisirdeshpande.com/mybooks
Twitter: twitter.com/RashmiWriting
Instagram: instagram.com/rashmiwriting
Adam Hayes is a typographer and illustrator. He works on a broad range of projects from quick editorial illustrations to large-scale international campaigns.
Adam creates all of his work by hand. His typical working method is to produce lots of quick pencil sketches as response to a project brief, often drawing over and over to capture the best design approach. He develops these sketches into refined ink drawings, before manipulating and adding colour in Photoshop.
Adam lives and works in Wales with his partner, Sarah Bridgland and their two kids. When not in the studio Adam can be found either mountain biking in the hills, hiking over the moors or embarking on a family adventure.
Website: mrahayes.com
Instagram: instagram.com/mrahayes